An integrated endoscope with blood suction function
Problem:Endoscope has to be taken out of the body and insert a different "rod" to suck up blood which makes the system quite time-consuming and creates a lot of hassle.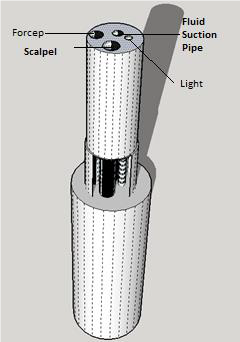 NEED Statement: Use a built-in integrated suction pipe within an endoscope to perform such surgery.
Beneficiary: Surgeon, Assistant surgeon, Nurse
Description:
A two-valve system is used where valve 1 creates high pressure enabling water to be transported into the body at the surgical region and valve 2 uses low pressure enabling blood to be drained out of the surgical region
Suction is used to remove blood from the operating region.
A rotating fan is used to create a vacuum which sucks in air through suction nozzle at the end of a pipe.
Result:
Saves extra time and effort making the whole procedure easier for surgeon and assistant surgeons
An instant clearer field of view to carry on operation
Please evaluate our project here
Go back to All project
For furthur query about the project, please contact here